Tradition meets modern to create tomorrow's champions.
History
Fuzion Martial Arts was founded on the mission to build a better community through teaching the modern application of traditional martial arts. The principals of Fuzion Martial Arts, Master Justin Revak and Sensei Keith Cavallo, believe that a better, spirit, mind, body, and community can be found through learning, practicing, and living the values of martial arts.
Fuzion was originally founded by Master Revak. He saw the need to address the challenges of today's world by taking the traditional elements of martial arts that he valued and developing new applications to face today's challenges.
Master Revak began studying Kung Fu at the age of 5. A martial arts prodigy, he obtained high rankings in Kung Fu, Goju Ryu Karate, Krav Maga, Jiu Jitsu, Kickboxing, and Taekwondo. He competed for years, winning various titles and state championships throughout his career. He has been teaching for twenty years and instructed hundreds of students throughout his two decades. As a skilled coach, he has also trained many state and regional competitors. Some have gone semi-pro, and one recently made his professional MMA debut. His life-long dedication to practicing, teaching, and living a martial arts lifestyle has earned him admiration from his students and made him an exceptional developer of content and instruction.
The strength and skill of the practitioner is not found in one style, method, or approach.
Sensei Cavallo, a practitioner of both traditional and modern martial arts, saw the need to incorporate the principles Shotokan Karate and Taekwondo to confront modern obstacles.
Sensei Cavallo is a lifelong martial arts enthusiast and student. Since the age of 8, he has trained in Taekwondo and Karate. A proficient instructor beginning in his teenage years, Sensei Cavallo believes that the soul of martial arts is foundational for life skill development. Over the past few years, he has added Krav Maga, Kickboxing, and Jiu Jitsu to his studies. With a comprehensive background in business development and leadership, Sensei Cavallo looks for opportunities to further people and his community through providing example and opportunity. He is a student of the teachings of Shotokan Master Gichin Funakoshi and tries to learn, live, and teach "The Way" throughout his life.
The soul of the warrior is balanced through reverence of the past and focus for the future.
The Fuzion System ©
The Fuzion System © (FFS) is a hybrid of the modern applications of Karate, Taekwondo, Kickboxing and Brazilian Jiu Jitsu. The Fuzion System also incorporates elements of Goju Ryu, Krav Maga and Kenpo. This forms a well-rounded structure that enables practical self-defense, competitive skills, and fitness. Founded by Master Justin Revak and further advanced by Sensei Keith Cavallo, the Fuzion System was developed on the philosophy of 'Fuzing" principles of several traditional styles with modern martial arts principles and application for today's students.
Fuzion's Karate, Kickboxing and Jiu Jitsu symbolize three pillars that are individually effective and extremely robust when "Fuzed" together. The system offers a wide range of different approaches to varying combative and self-defense situations. It focuses students to create and sustain a healthy and active lifestyle. It is the belief of the principals that the core values of this system will add value to local communities, personal development, and individual focus through dedicated practice in and out of the dojo.
Kongo Ryu ©
The Fuzion Martial Arts Schools & Modern Martial Arts Alliance, teach the universally accepted principles and philosophy of Karate-do & Taekwondo that have been practiced for generations throughout the world. The Kongo Ryu style is a hybrid of many practical principles, characteristics, and movements of Karate-do and Taekwondo rather than just one specific style. The Kongo Ryu style allows for students to learn the practical aspects of various traditional styles and synthesize them in a modern methodology that makes for a robust and effective self-defense system.
​The Fuzion Martial Arts Karate curriculum is predominantly Shotokan Karate "Fuzed" with Taekwondo with added elements of Goju Ryu Karate and Kenpo. As a licensed martial arts school under the Global Traditional Martial Arts (GTMA) banner, the Kongo Ryu system and our instructors have been assessed, ranked, and accredited. Additional masters from a variety of disciplines have also accredited the Kongo Ryu system.
Core Values
Confidence
Respect
Communication
Discipline
Ranking System and Governance
Karate
Our Karate System of Kongo Ryu is overseen through masters from Global Traditional Martial Arts (GTMA). We provide instruction and ranking under their governance.
Brazilian Jiu Jitsu
We study and teach under Rubao' Carioca system. We are governed under their organization and follow their ranking process and system.
Kickboxing
We teach and train in the Mui Thai kickboxing methods.
Rank Advancement Philosophy
At Fuzion, we believe that the quality of skills and values learned by a student is more important than the color of their belt. While rank and advancement are critical to growth, our commitment to our students is to never promote someone before they are ready and to ensure that the physical and life-skills they learn can be used in a positive manner daily. Students should understand that everyone is on their own journey through the study of marital arts. The requirements and timeframes illustrated below are the minimum framework, but may be modified based on a student's growth, maturity, and readiness. Fuzion's rank advancement philosophy is simply to enjoy the journey.
Curriculum Overview, Testing and Rank Promotion
1. There are three curriculums as part of the Fuzion Karate System. One is the color belt ladder and then the black belt ladder. We also have the "Moogi" pre-school program that advances on a similar track.
2. Classes are separated into either Moogi, color belt or black belt groups for proper content learning and skill level engagement.
3. Each class will focus on skill introduction, applicable illustration of techniques, drills, learning games, and coaching for acceptable mastery.
4. The school cycles through a full curriculum over a 12-month period. A white belt could conceivably start learning brown belt maneuver's though the skill level expectation will be on par with their rank.
5. As a student progresses, the expectation for technique mastery and skill will increase as will the student's ability and precision.
6. Testing takes place once every 3 months for color belts. Black Belt mid-terms are also offered during this time. Black belt rank testing occurs once every 6 months.
7. To be eligible for testing, students must have earned all four of their "Core Value Stripes" during the preceding 3 months.
8. Every 2 weeks a new core value is focused on by the entire school. During this time, students have an opportunity to earn their stripe. If a student is behind on earning their stripe, instructors are committed to helping them and their parents on what may be needed so they may advance.
9. In addition to earning all four of their stripes, students must complete a certain number of classes to be eligible for Color Belt Testing. For White Belts – Purple Belt this is 24 classes over a 3-month period. For Blue – Red Belt, the expectation is 32 classes over a 3-month period.
10. Black Belts must complete a minimum of 4 mid-terms (taking place every 3 months) to be eligible to test for their next rank. Additional time periods between ranks may be required. Mid-term participation does not guarantee permission to participate in rank testing but is one of the requirements to be satisfied.
11. Permission from the Chief Instructor must be giving for a student to participate in rank testing.
12. All techniques learned through a 3-month cycle may be required at any testing.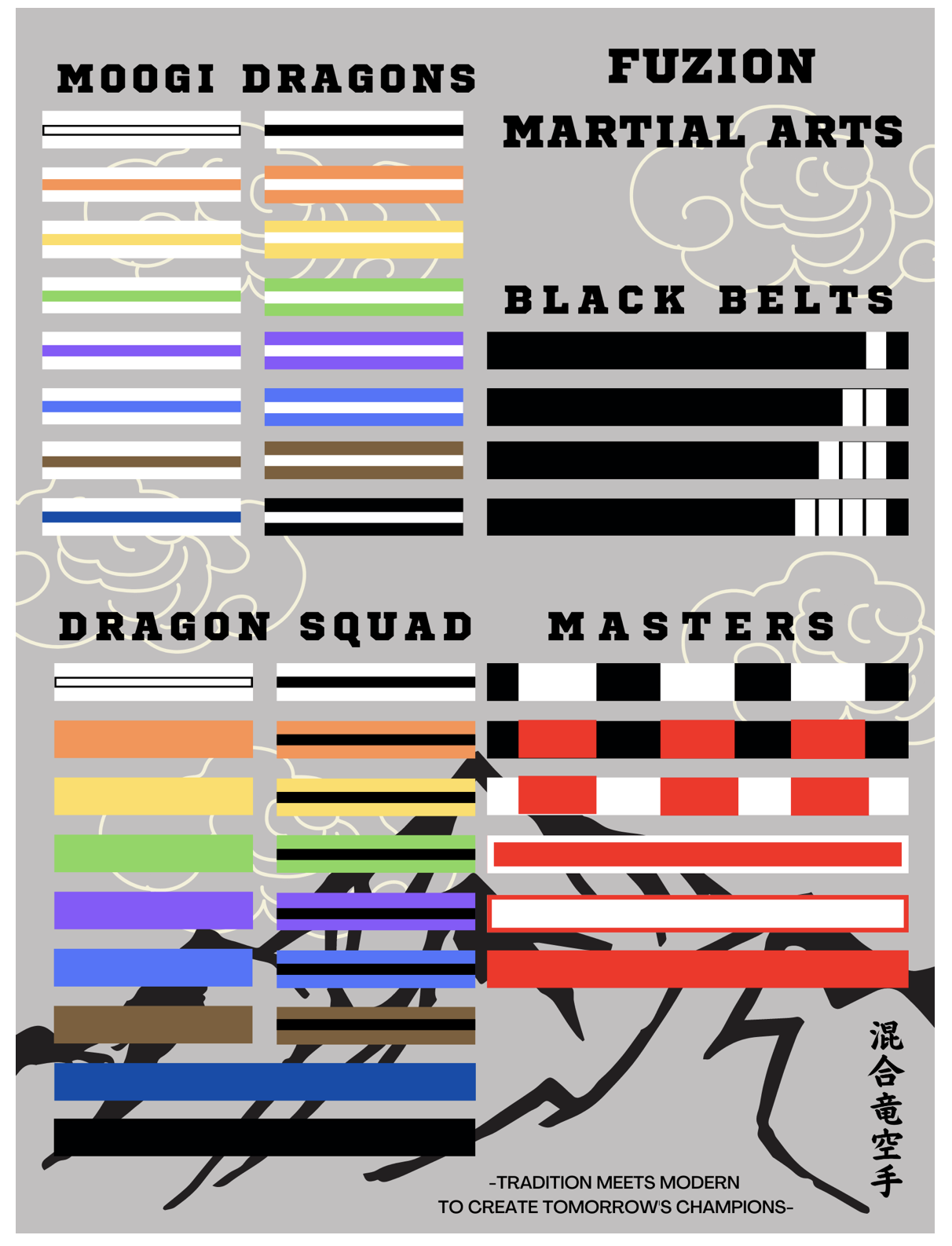 Areas We Serve:
Charlotte
Matthews
Weddington
Union City
Indian Trail
Pineville
Wesley Chapel
Waxhaw